Grad Student Testimonial (DACA Recipient)
Undocu-Bobcat in Graduate Education
Video testimonial of a current UC Merced graduate student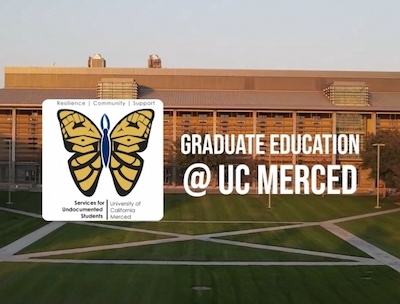 ---
Identifying Pathways 
By Alberto Ledesma, University of Californian, Berkeley 
Why Graduate School?
According to the latest research, a majority of undocumented students who have chosen to brave the stresses of graduate college experience do so because they want to help their families. These students understand that in getting a graduate degree they are not only opening doors into the professions, they are also acting as role models for other family members, advocating for their communities, and making a significant social impact by equipping themselves with the ethos that comes when one has advanced academic credentials. 
The few students who have succeeded in getting accepted into programs also report that their success is due to their academic performance in their undergraduate programs, the advocacy they received from key mentors, connections to activist organizations, and the knowledge they have gained as undergraduates in demystifying the graduate application process. Below, we offer a few points of advice that may assist you as you are thinking about applying to graduate school. As always, please note that these points of advice are offered as general observations and not as a rigid prescription. To get into graduate school, the main requirement is that you have the desire and opportunity to work towards that goal. 
Identify "Undocu-friendly" schools and programs. 
As with all students who are applying to graduate school, your success in getting into a graduate program is dependent on how much quality research you do regarding each program you are applying into. Besides reviewing university and departmental websites, here are a few questions that may allow you to access if these are "undocu-friendly" schools: 
Do they have a "Dream Center"?
Does the school have undocumented student organizations?
How often does the college or program mention undocumented student experiences in their websites?
Filling out the graduate application:
Usually, a graduate application has many parts that you will be asked to submit. One question that you will need to grapple with is whether or not to disclose your status. While you may be tempted not to disclose initially, do note that any admissions offer you are given may be rescinded if you disclose after the fact, particularly if the department is offering you federally restricted funds. If you do disclose, please note if there is a diversity/personal statement required in addition to a statement of purpose. If there is, that may be the best place to mention something about your background. One strategy that you can use is to check "other" in the citizenship question and to be vague on the personal statement regarding your status. Often, departments will follow up to ask about that question. At that point, you may need to disclose. 
Funding and employment:
If you are an AB540 student (attended and graduated from a California high school for at least three years), you are eligible for all UC Financial Aid, including private scholarships and fellowships donated to the regents. Some fellowships may have a teaching requirement and, to do that, you will need to have DACA (Deferred Action for Childhood Arrivals) status. Before applying or accepting an offer, make sure that you understand the different requirements. 
Understanding the differences between graduate and undergraduate programs:
One of the key distinctions between graduate and undergraduate experience for undocumented students is the isolation that often occurs at the graduate level. Because it is the department that admits you and not the university itself, as when you were an undergraduate, most of your social interactions are within the department. Socializing with other undocumented students may require you to step outside your academic environment and, because many graduate programs, especially professional programs, implement a by-cohort approach to course assignments, interacting with the larger university community may prove more difficult.
See if the graduate student governments of the schools you are applying to have student diversity groups where you may find other undocumented students. Often, the university will have a diversity and inclusion office that may also facilitate such connections. 
Understand the limitations of public versus private graduate schools:
While you might be able to find thriving undocumented student populations at California public universities, it is private universities that have large private endowments that have greater flexibility to support undocumented students at the graduate level. Privates also have greater leeway in the way that departments implement teaching requirements. If you are unsure about what departments expect and can offer you, contact the Graduate Student Affairs Officer of the department you are applying to or ask an ally to do so on your behalf. 
Master's, Professional, and Doctoral Programs: Another key distinction that you should understand as you are preparing to apply is the general funding differences between Master's, Professional, and Doctoral programs. Recently, across the University of California system, most doctoral programs are offering full or mostly-full financial packages for their admitted students. Conversely, Master's and Professional degree programs have historically offered very few fellowships compared to the total number of students they admit. Before submitting your applications, make sure you know if most of the students in the program you are applying to are supported via loans or fellowships.
Expecting to develop your writing competencies further: 
One of the key differences between undergraduate and graduate school is the level of academic writing students are expected to produce. One point of feedback that we often get back from undocumented graduate students entering doctoral programs is that they would like to continue developing their academic writing. While there are often tutoring centers and services available at the undergraduate level that these students have used, graduate programs do not always offer analogous services, as they will usually assume that students have already mastered the writing skills they need. Writing well, of course, is not just a manifestation of the writing skills you have mastered. This ability also demonstrates your engagement with the academic discourse of a department. Because undocumented students experience departmental engagement differently, this can often become obvious in the kinds of writing they produce. If this is a concern for you, make sure to ask the departments to which you are applying to let you know what kinds of writing support they offer graduate students. 
Rigidity of normative time: 
One strategy that undocumented undergraduates often use when they are having difficulties paying for college is that they take term-long leaves in order to work and raise funds. At the graduate level this is more difficult because departments and universities have rigid normative time rules that require students to finish within a specific amount of time. As you are applying, make sure to know what the normative time expectations are and how flexible they may be, especially if you are getting only partial financial support. 
Miscellaneous fees and insurance: 
When applying to any graduate program, make sure to read the fine print! Most frequently, colleges and universities will list the total cost of what specific graduate programs will cost in websites hey usually call "cost of attendance". Do note what miscellaneous fees and insurance requirements they have and whether they allow waivers. Often, you will be allowed to continue using whatever insurance you are on before you get accepted. The insurance packages that some colleges will require you to buy may often be very expensive. 
The absolute necessity of having a champion ally in the program to which you are applying: 
This is the key. Only apply to programs where you know someone in the department or the university who will be happy to offer you advice and encouragement. Applying to graduate programs can be a stressful and frustrating experience if you do not have someone there to champion your efforts. The best champions, of course, tend to be faculty within the programs to which you are applying. Take the time to reach out and cultivate relationships long before you begin your application. 
---
Other Resources: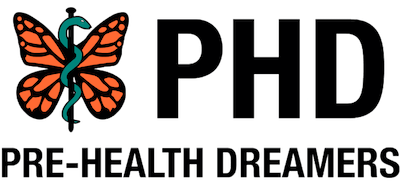 Pre-Health Dreamers - Med School Info for Undocumented Scholars