Previous UROC scholars have attended regional and national conferences to present their research throughout the academic year. UROC will support UROC scholars (students that participated in UROC-H, SURF, SOAR, JGI, UC LEADS, and CAMP) to attend conferences with funding and help with coordinating your travel plans. At this time UROC is unable to support LAEP Scholars.
After reading the information below and reviewing the travel request form, schedule a meeeting with your coordinator to ask questions and confirm your acceptance to present your research.
Guide for Making Travel Arrangements
Please use the steps below to assist in planning for conference travel. Please note that all expenses (except for airfare and/or hotel depending on approval) will be covered up front by the traveler and will be reimbursed after the itemized receipts have been submitted to UROC staff members.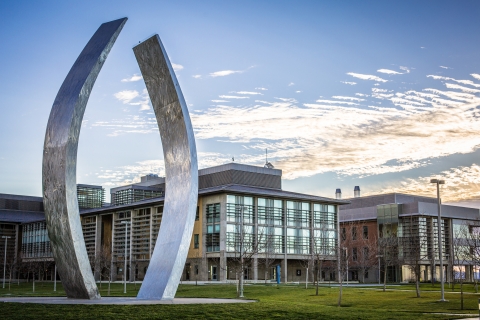 If you plan to attend a conference:
Complete and submit a travel request form to one of our UROC staff members 60 days prior to the conference. 

Complete any registration forms associated with the conference. Note the deadlines for registration and, if you intend to present a paper, proposal submission.

Determine the exact dates and times that you wish to attend. Be sure to consider when you want to arrive at the location, which will influence when you want to leave Merced. For example, if a conference in Seattle begins at 1 p.m. on a Thursday, do you want to leave early Thursday morning (which may be inconvenient) or Wednesday night (which will involve another overnight stay and add to your expenses)?

Meet with UROC staff members to make travel arrangements. Depending on travel request approval we will schedule flights and assist in reservations at a hotel for you. In most cases, your tickets and confirmations will be sent to the UROC office, which you will need to coordinate with.

Make arrangements as soon as possible, preferably at least two months in advance. Flights will be less expensive, early registration and hotel reservations are priced lower, and so forth. This will benefit you, because the less money you spend per conference, the more conferences you can attend, and the further your UROC travel stipend.
---
Travel Request Forms
Important traveling points to remember:
All travel and travel expenses must be pre-approved by your program coordinator.

Once registration, airfare, and hotel accommodations have been confirmed, you are responsible for any charges for changes or cancelations. Please do remember this and plan accordingly.

If possible, try to take extra money and/or a cash card along for contingencies: getting snowed in at the airport and needing to buy food, missing the shuttle and having to catch a cab, for example. 

UROC can only reimburse you once you have submitted all your original and itemized receipts (bank statements will not be accepted) and documentation of the travel you have taken. It typically takes six to eight weeks to receive a reimbursement check from the university after your receipts have been turned in. The sooner you turn in your receipts the sooner you will be be reimbursed.

Do not pay for another traveler unless you do not expect to be reimbursed for that expense.

Do not pay for alcohol on the same tab as your meal. Ask for a separate receipt. 
---
Post-Travel Reimbursements 
UROC Travel Reimbursement Form
 
NOTE: UROC travel funding will not pay for or reimburse:
Under state legislation AB 1887, UROC cannot approve or support travel requests to the following states: Alabama, Arkansas, Florida, Idaho, Iowa, Kansas, Kentucky, Mississippi, Montana, North Carolina, North Dakota, Oklahoma, South Carolina, South Dakota, Tennessee, Texas, and West Virginia.
Alcoholic beverages
Personal purchases (books, souvenirs, etc.)
Cost of meals beyond $79 per day limits
Tours, excursions and non-conference-related events and entertainment
Car insurance or GPS add-ons if you rent a car
Family or friends accompanying you (guests are not allowed on sponsored trips)
Personal phone calls, movies or room service at your hotel room
 
---
Conference Travel 101