This series of workshops will provide students with helpful information to apply to graduate school for Masters and/or PhD Programs.
Workshops will include support for other areas of development and future career planning.
This is open to any Bobcats looking for support with the process. 
Fall 2022 Workshops 
Nov. 21

Graduate Studies at UC Merced Information Session

7:00pm -8:00pm
Zoom
 

Connect with UC Merced's Graduate Recruitment team and learn about graduate study opportunities at UC Merced. During this webinar and Q&A, our team will share how you can successfully prepare for your application for Fall 2023 admission.

Hosted by UC Merced Graduate Recruitment

 
 
 
 
 
 

Nov. 30

Alumni Panel and L unch - Navigating Grad School as an Undocumented, DACA, or AB540 Scholar

11:30am -1:00pm

Admn 345

 

Current grad students will share their experience navigating the graduate school application process, finding funding, and will answer questions from students. 

Join us for lunch (J&R Tacos) and great conversation. 

Followed by Grad Division webinar from 1-2pm. During this webinar that we will have displayed in the room. The Grad Div presenters will share insights and resources for navigating graduate school as an undocumented, DACA, or AB540 student. Register here to receive an application fee waiver for attending the grad div webinar. 

Grad Div webinar after from 1-2pm

 

Dec. 2nd

Mixer with Current Graduate Students - (DATE CHANGE)

TBA

TBA

 

Registration required and limited to 30 students

Attend this graduate school networking mixer for a chance to meet with current UC Merced graduate students to discuss the graduate school application process and learn from their experience.

Graduate students will share their experience with the application/interview process, the challenges they have overcome, and offer advice for applying to graduate school.

This is a great opportunity for you to engage with peers and to address any concerns you may have for the next big step in your future.

 

 
The UROC staff are available to answer general questions at uroc@ucmerced.edu or by messaging the staff on Microsoft Teams.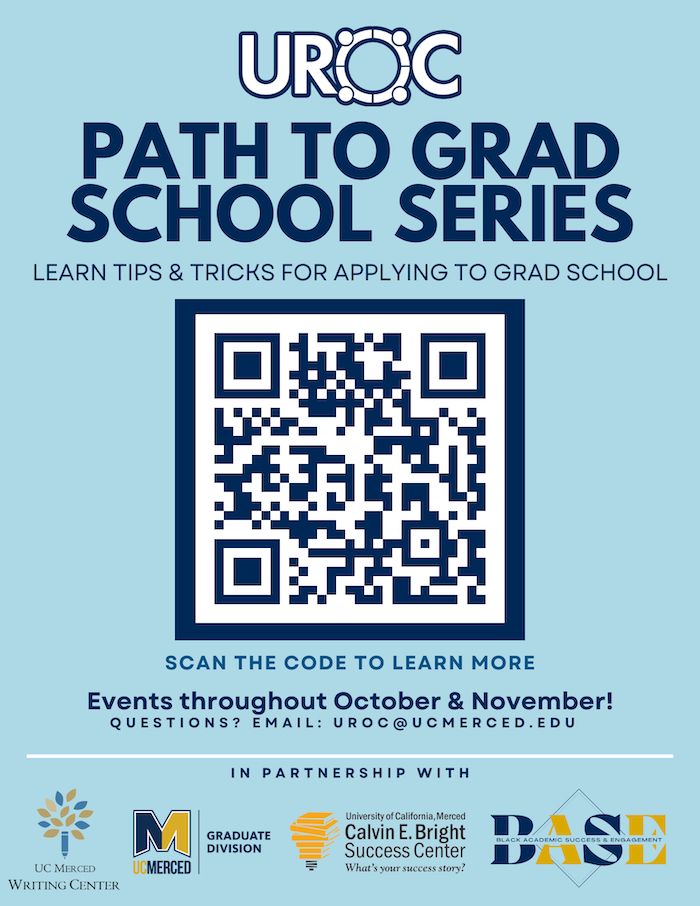 Past Events for Fall 2022
Oct. 18

Graduate School 101

5:00pm - 6:00pm

Granite Pass 150

 

Unsure of where to start? Come learn more about graduate school, the application process, how to be competitive, and have any of your questioned answered. We will also discuss the series of workshops/events.

 

 

Oct. 20

Graduate School Application Statements

12:00pm - 1:00pm

Glacier Point 155

 

Staff will provide resources and direct feedback for edits to successfully market yourself on paper when applying to REUs, internships, graduate school, or industry jobs.

The presenter will cover the differences between the types of statements, what to include/not include, and some tips and strategies for writing and revising.

 

 

Oct.24

UCSF Outreach and Recruitment Virtual Visit

4:00pm-5:00pm

Zoom

 

Professor David Booth will share some of his research and discuss the basic and biomedical sciences graduate programs,  and summer research opportunities at UCSF. Learn more about Professor Booth and the Booth Lab https://profiles.ucsf.edu/david.booth

Gabriel Viramontes, UC Merced Alum and current UCSF Tetrad PhD Program graduate student, will also share his experience and network with undergraduate students thinking about graduate school.

Meeting ID: 861  2382  6528  |  Passcode: bobcat

 

 
Nov. 1

Graduate School for Leadership Higher Education

4:00pm - 5:30pm

Zoom

 

Interested in working in education? Unsure of the path or options for advanced degrees? Come learn from others who finished their advanced degrees and current graduate students.

Panelists will include current graduate students in programs to share their experience and how they decided on graduate school programs. 

Meeting ID: 860  9043  3495  | Passcode: 784924

 

 

Nov. 3

UC Davis Gradaute Studies Info Session

1:00pm - 2:00pm

Zoom

 

Graduate Studies at the University of California, Davis invites you to Grad Scoop 101, a series of virtual events that will take place on November 3rd, 6th, and 7th at 1 pm PST.

Grad Scoop 101 is an opportunity to 1) attend a Virtual Information Session: UC DavisGraduate Studies, 2) learn about Applying to Graduate School, and 3) get an overview of the ABCs of Graduate School: What Degree to Pursue.

 
 

Nov. 3

Curriculum Vitae (CV) Workshop

5:00pm - 6:00pm

Zoom

 

What is a CV? What if I only have a resume? What is the difference?
This workshop will help students adapt their resume into the curriculum vitae (CV) required by most graduate school programs and fellowship applications.

CV drafts can be reviewed and edited. Bring a copy of your resume if you do not have a CV.

 

 

Nov. 8

UC Santa Barbara Graduate Programs and Admissions Process

10:00am -11:15am

Virtual

 

You'll learn more about programs and initiatives that provide support for graduate student professional development, diversity in graduate education, and the pathways toward innovative interdisciplinary research within our Master's and PhD programs.

Space is limited, so we encourage you to register early

 
 

Nov. 8

UC Irvine Open House (Grad Admissions Virtual)

11:00am - 5:00pm

Virtual

 

Learn more about graduate programs, student life, and resources including hearing from current students and connecting with department representatives. 

 
 

Nov. 9

Funding Graduate School and Fellowship Workshop

11:30am-12:30pm

Glacier Point 120

 

Learn more about how to pay for graduate school, finding additional funding, common misconceptions, and how to be competitive for fellowships. 

Eric Cannon, Financial Services Director for UC Merced Graduate Division, will present on funding graduate school with tips for grad applications.