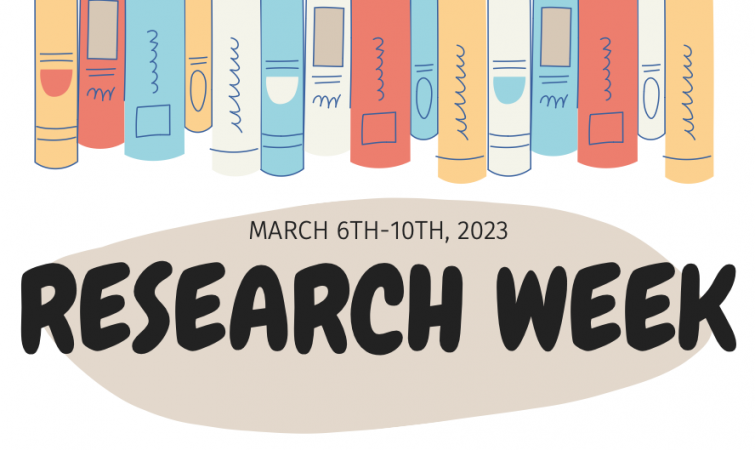 Research Week is an annual series of events to showcase UC Merced's important explorations into some of the world's most pressing challenges. Everyone is encouraged to participate, attend, and celebrate research at UC Merced and in the Merced community.
UROC is hosting three events and encourage students, staff, faculty, and community members to learn about and celebrate researh.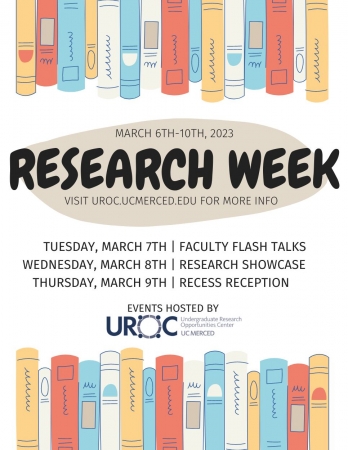 UROC Faculty Flash Talks
March 6, 2023  |  3:30pm - 5:00pm  |  UC Merced Conference Center
UG Students - Searching for a research project for this semester, for summer, or for next academic year? Come learn about projects currently available and discuss with faculty in the moment and confirm a project.

Faculty - Looking for research students for this semester, Summer 2023, or next academic year? Faculty can register to share project info with students (poster or tabling) to find a match for your project(s).
UROC Research Week Showcase and MCOE STEM Fair
March 8, 2023  |  9:00am - 1:00pm  |  UC Merced Conference Center
Several students look for opportunities to present their research
Encourage your student to consider presenting their research at this event. For LAEP students, this can also be an in-progress presentation since they have until the end of the semester for their position and work. Students from Merced County schools will also compete in the MCOE STEM Fair to be selected for the state competition.
View the schedule and abstract information here
 
ReCCES and UROC Community Engaged Research Reception 
March 9, 2023  |  5:00pm - 6:30pm  |  Merced Multicultural Arts Center (MAC)
Join us to celebrate research conducted in collaboration with the community. Learn about current research projects and how to get involved in future projects to connect research to community goals.
TWO Keynote Speakers: 
Professor Dalia Magaña with graduate students Lorraine Ramos, Ekta Kandhway, Joshua Semerjian, and Healthy House Candice Adam-Medefind and Belle Vallador
Not a cancer "fight": Centering Latinas' metaphors in breast cancer narratives through community collaboration

Professor Colleen Naughton with Guadalupe Singh, Merced County Health Department, and Water Treatment Plant
Wastewater monitoring for COVID-19 response and beyond at multiple geographic scales: how to provide early warning and information on community spread equitably
Undergraduate and Graduate students will also highlight their research projects. Catering provided by Five Ten Bistro.