Over the last three years, a grant to UC Merced from the USDA NIFA HSI Education Grants Program (2011-38422-30813) has served as an incubator for first-generation college students to both grow professionally and practice engaged leadership. Many of the scholars come from small, rural communities and chose UC Merced due to the close-knit culture and the wealth of opportunities at the campus. 
To be competitive in today's workforce, it is fairly typical for college students to participate in research and professional internships. Undergraduate research provides students a glimpse at future careers in their chosen discipline and an edge in applying for graduate schools or entering the job market. Colleges and universities are expanding these opportunities due to this increased emphasis for college students to have practical, hands-on experience prior to graduating or applying for jobs. For scholars like Ana Arteaga, Fredy Cisneros, Steven Duval Ruilova, and Maritza Flores-Marquez, alumni of UC Merced's USDA Hispanic Serving Institution Education Training Program, undergraduate research developed their critical thinking skills, understanding of scientific inquiry, and prepared them for the next steps in each of their careers while giving back to their home communities. These scholars exemplify the university's mission to serve the Central San Joaquin Valley. Below is a brief overview of their work including each scholar's hometown.
Ana Arteaga (Hometown: Merced, CA) graduated with a degree in Chemical Sciences and is currently in her first year of a Ph.D. program in Material Chemistry at Oregon State University. Ana started her research process early, as a high school student in Project SEED, an American Chemical Society summer program that places economically disadvantaged high school students in chemistry-related science labs. Her undergraduate research projects ranged from chemistry applications for solar cell technologies with Dr. Erik Menke to insulin resistance studies with Dr. Rudy Ortiz. A well-rounded student, Ana was involved in clubs and organizations in addition to her academic course load and research projects and was most recently the President of the UC Merced Chapter of the Society for Advancement of Chicanos and Native Americans in Science (SACNAS). In 2014, she was recognized at the SACNAS National Conference for her research poster presentation and was highlighted by UC President, Janet Napolitano for her work in undergraduate research and service to her community.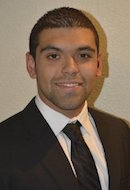 Fredy Cisneros (Hometown: Dos Palos, CA) graduated with a degree in Mechanical Engineering and is currently a student in the Master's Fellowship Program (MFP) through Sandia National Laboratory, which provides exceptional bachelor's level minority candidates with the opportunity to receive fully funded master's of science degrees. Fredy is currently attending UC Davis, pursuing an MS degree in Mechanical and Aerospace Engineering.  After receiving his master's degree, Fredy is guaranteed job placement at Sandia National Lab, where he will join multidisciplinary R&D teams that are advancing the frontiers of science and technology to solve the world's greatest challenges.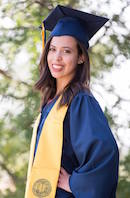 Maritza Flores-Marquez (Hometown: Tulare, CA) graduated with a degree in Environmental Engineering and is currently a Master's student at UC Davis studying Civil and Environmental Engineering with an emphasis in water resources engineering. Maritza spent two years conducting research as an undergraduate.  During one of her research experiences, through ReNUWIt's (Re-Inventing the Nation's Urban Water Infrastructure) Summer REU at UC Berkeley, she worked on nutrient recovery from wastewater. The project aimed at developing an ion exchange cartridge that could recover ammonium from urine with the purpose of producing fertilizers from the recovered nitrogen.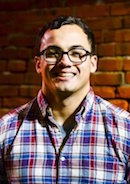 Steven Duval Ruilova (Hometown: Folsom, CA) graduated with a degree in Cellular and Molecular Biology.  During his senior year in college, Steven received the UCM Legacy Award, which recognizes a student graduating (undergraduate or graduate) whose influence, ideals and activities throughout their college career have left a lasting, positive impression on the institution and raises the standard of excellence for future generations. Shortly after graduating, Steven became an entrepreneur, together with another UC Merced alumni.  They started a local educational nonprofit called BEAT — Biology, Engineering, Agriculture and Technology — with a mission to increase science literacy in the Central San Joaquin Valley. Together with UC Merced faculty, students, and community members the organization provides hour-long presentations to third- through eighth-graders and cover topics such as organic chemistry, biology, engineering, and computer programming including hands-on activities to enhance the learning opportunities.
The USDA Scholars, along with their peers, participated in a nine-week, intensive summer research institute provided by the Undergraduate Research Opportunities Center (UROC) at UC Merced. The summer institute provided research development, direct faculty mentorship as well as workshops for professional development, networking and public speaking skills, and educational excursions for further exposure to future career opportunities. One trip was co-sponsored by the Sierra Nevada Research Institute (SNRI) to give students exposure to interdisciplinary research taking place in Sierra Nevada mountains. These facilities are used to understand the region's economy, natural resource and recreation industries, and new studies on renewable energy, water management, and wildfires. In addition, our students received a guided tour of the Mariposa Grove, hosted by students of the Youth Leadership Program (YLP) at UC Merced, an outdoor exploration and environmental leadership program exposing students to nature through educational leadership activities. 
Undergraduate research provides students with the direct benefit of one-on-one mentorship with a UC Merced faculty sponsor that is otherwise uncommon in the undergraduate curriculum. An indirect benefit of undergraduate research, and one that is more difficult to teach in classroom curriculum, is the balance between independence and collaboration. Research is often performed in teams, and one must learn to balance a collaborative effort in the laboratory with their independent process for completing tasks.

While an unwritten goal of undergraduate research programs is to encourage scholars to publish their work, the primary features are the experience, the relationships formed (especially with a faculty mentor), and the skills learned. Without these critical professional skills, today's top-tier graduate programs are less likely to consider such applicants. Independent research offers students a taste of the robust research culture and life as a scientist. It's a short-term, risk-free way to investigate whether a research career or a particular field is a good fit for the scholar.
For the 16 USDA scholars that have now graduated, this certainly seems to be the case as 9 of them are now in MS or PhD programs in agriculture-related areas. For more information about undergraduate research at UC Merced, please visit http://uroc.ucmerced.edu.
Funding for this program was provided by the United States Department of Agriculture's National Institute of Food and Agriculture, Hispanic Serving Institution Education Grants Program (USDA NIFA HSI Education Grants Program 2011-38422-30813)