UROC is collaborating with other offices to launch a new program this fall. The Learning Aligned Employment Program (LAEP) is funded by the California Student Aid Commission and is intended to support undergraduate students' development through employment.  
UC Merced is using this funding to support undergraduate students to conduct academic year research projects. Students will be paid to work with their faculty mentor or graduate student on a project for the entire academic year (if they choose).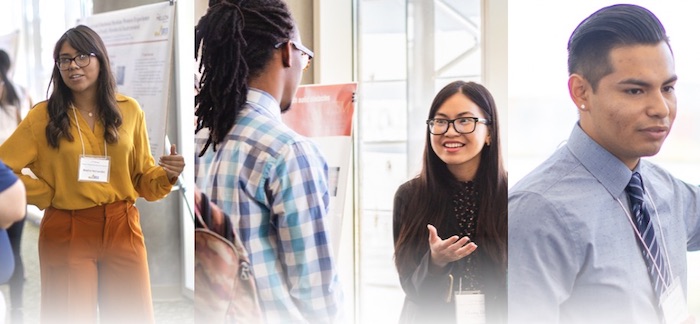 Discuss the opportunity with your faculty mentor. This can support your summer project or be an opprtunity for something new. 
Submit this Qualtrics form to express your interest and start the process. After confirmation, UROC will process hiring paperwork and will discuss next steps. 
The Learning Aligned Employment Program (LAEP) form is NOW CLOSED and will reopen next Fall 2023!
LAEP RA Position Details
Funding: up to $7,900, depending on your financial need and award eligibility
Time/semester: Fall 2022 and Spring 2023
Faculty Endorsement Required: Faculty will submit confirmation through a Qualtrics form
Wage: $17 per hour
Weekly Hours: 5 - 18 hours a week. 
Will typically be approximately 10 hours per week. (This is combined with any other campus employment, not exceeding 18 hours per week for all campus employment.)
Reminder - You cannot be paid with LAEP funding for your research if you are receiving course credit (research units/independent study/Honors/Capstone) for that research. Research must NOT conflict with academic year studies.
LAEP General Information
The Learning Aligned Employment Program offers eligible students at public colleges and universities the opportunity to earn money to help defray their educational costs while gaining education-aligned, career-related employment.
Research is not limited to scientific research and can take place outside of an academic discipline. LAEP allows a participating student to conduct research that relates to the student's area of study, career objective, or the exploration of career objectives.
You can learn more about the program and funding development at csac.ca.gov/laep.
Letter from President Drake and Chancellors regarding the program purpose and intended outcomes. 
---

Looking for a faculty mentor or new research project??
We are hosting two events for faculty to share their available projects with students. 
Tuesday, August 23rd 
5:00-6:00PM  |  Virtual on Zoom
Friday, August 26th
3:00-4:00PM | UCM Conference Center 105
Faculty presenters will have posters or will be tabling to share information about their research projects. 
---
FAQ - Frequently Asked Questions
What is the Learning Aligned Employment Program (LAEP)?
LAEP provides funds to participating public postsecondary educational institutions to offer eligible students opportunities to earn money to help pay their educational costs while gaining career-related experience in their fields of study.
At UC Merced, UROC will oversee the students engaged in research and be a resource for ongoing development. p>
Can students participate in other work study programs or the Dreamer Service Incentive Grant (DSIG) concurrently?
Yes, but it may not be in the students' best interest because it may be an excessive number of work hours in addition to the student's coursework. The hours would be separate for each program; the student could not use the same hours for multiple programs.
I have been matched and accepted a LAEP position by UROC, what should I do next?
Your employer (UROC) must complete the LAEP Employment Eligibility form and all other necessary hiring paperwork with you before the first day of work. You will not get to claim hours for work without being cleared to start. Your hiring department (UROC) will direct you to the Student Employment office to complete new hire documents. If this is your first job on campus, make sure you bring proper identification and other required documents.
What is an "underrepresented" student?
For the purpose of determining LAEP eligibility, "underrepresented" students include first generation college students, low-income students, students who are current or former foster youth, homeless students or those at risk of becoming homeless, students with disabilities, displaced workers, students with dependent children, formerly incarcerated students, undocumented students, students meeting the requirements of Assembly Bill 540 of the 2001–2002 Regular Session of the Legislature, and students who are veterans.
Can students also get academic credit/units for their research?
Students cannot count their research work for multiple programs/opportunities. "Double dipping" is using the same work for academic credit and also be paid for the same work, which is not allowed.
How much can I earn?
The LAEP Work-Study award listed on your Work-Study Eligibility form represents the maximum amount you may earn under the work-study program during the academic year. If you work in an on-campus position, you may continue to work and earn more than your work-study award. However, any earnings over the award will not be paid under the LAEP program and will be charged to UROC. Any portion of your award that remains unearned at the end of the academic year will be forfeited, as it cannot be transferred to a subsequent award period.
Can a dependent student qualify for LAEP if their parent is a displaced worker?
No. For the purpose of determining LAEP eligibility, the student must meet the qualifications, even if the student is a dependent.
Can graduate students participate in LAEP?
No, the program is only open to students pursuing an initial undergraduate degree. As with Cal Grant, students enrolled in a mandatory 5-year undergraduate program can participate.
Will Social Security, Medicare, and Unemployment Insurance be withheld from my paycheck?
No, as long as your appointment is less than 50% time (not actual hours worked).
Can I hold more than one (1) LAEP/FWS job?
No, you may hold only one work-study job, either under LAEP or Federal Work-Study, at a time. Therefore, you should select a job that provides enough hours to earn the total amount of your award. You may work under another campus employment position but not under work- study. Campus employment policy allows a student to work up to two jobs.
What can be possible reasons for the termination of my LAEP job?
Your employer may find it necessary to discharge you before the end of the employment period. Examples of reasons for separation: 1) Your Work-Study award has been depleted, 2) Your Work-study award was canceled because you:
did not meet Satisfactory Academic Progress (SAP)
withdrawn from school
received additional aid
taken an approved leave of absence
dismissed from school
graduated
What if I drop below half-time enrollment (6 units for undergrad), do not have Satisfactory Academic Progress, or withdraw from UC Merced?
If you do any of the above, it is more likely that you are no longer eligible to be under a LAEP Work-Study employment position and must terminate your employment immediately. Please notify your employer and the Financial Aid Office so they can take the necessary action based on your situation.
Why do I need to sign a LAEP Work-Study Eligibility Form when I get hired?
The LAEP eligibility form is used to authorize your participation in the program, and it indicates the amount of your LAEP award eligibility. You also certify that this position relates to your area of study and/or your career objectives. Your LAEP employer must complete this form and sign it with you before you can start earning your LAEP work-study award.