The Undergraduate Research Opportunities Center (UROC) is recruiting promising underrepresented minority and 1st generation students to apply for the Undergraduate Research in the Humanities Fellowship Program - UROC-H. 
UROC-H is a collaborative program for undergraduate student research in the humanities led by the Undergraduate Research Opportunities Center (UROC), the School of Social Sciences, Humanities, and Arts and the Graduate Division with additional support provided by the Center for the Humanities. This program is made possible through a diversity initiative grant from the Andrew W. Mellon Foundation.
Humanities Defined:
The humanities and humanistic social sciences use methods that are primarily critical, or speculative, and have a significant historical perspective. Only qualitative research focused on human culture and experience in the following UCM disciplines will be considered eligible under UROC-H: Philosophy, English, Spanish, History, Global Arts, Cultural Anthropology, Critical Race & Ethnic Studies, Sociology, & Public Health.
Visit the UROC-H program page on our website for more information. https://uroc.ucmerced.edu/uroc-h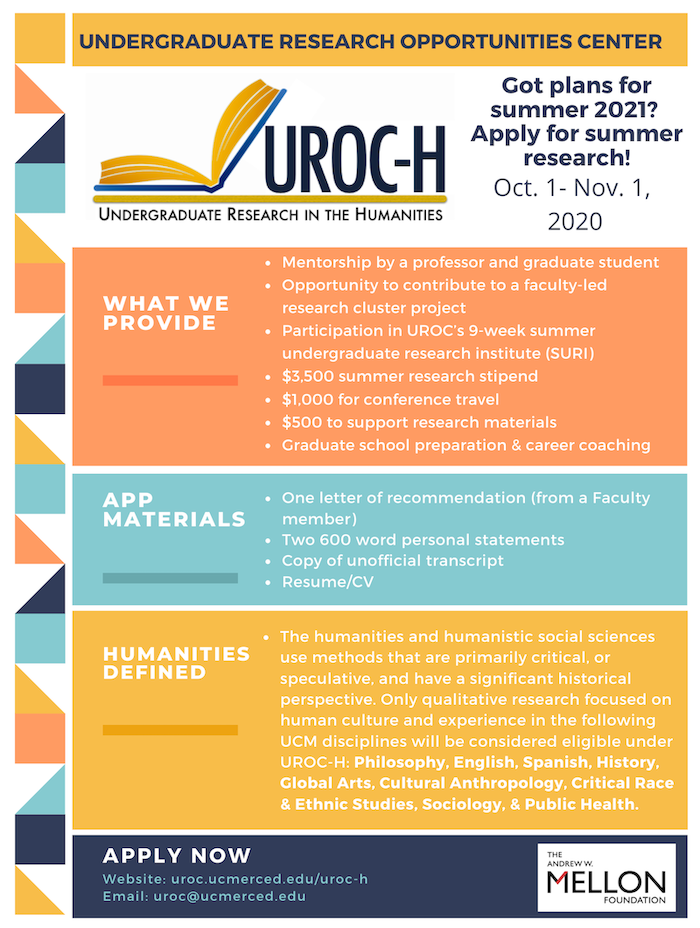 Information sessions are scheduled for the next couple of weeks for students to ask questions and get more informaiton. 
During the session you can learn more about:
Program Requirements
How to Prepare a Successful UROC/REU application 
What is Humanities Research
How to search for a Faculty Mentor  
Also ask questions about the application
October 8: 4PM - 5PM
October 28: 10AM - 12PM