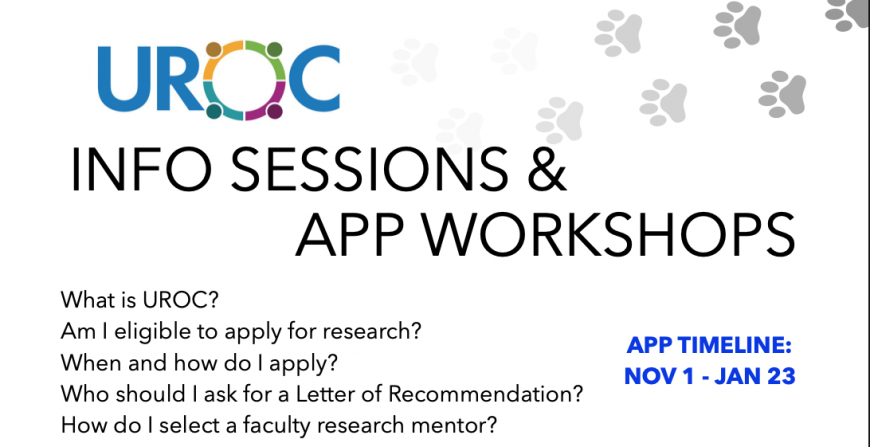 UROC staff will provide information about undergraduate research at UC Merced, applying to UROC programs, and answer any questions from students. 
What is UROC?
Am I eligible to apply for research?
When and how do I apply?
Who should I ask for a Letter of Recommendation?
How do I select a faculty research mentor?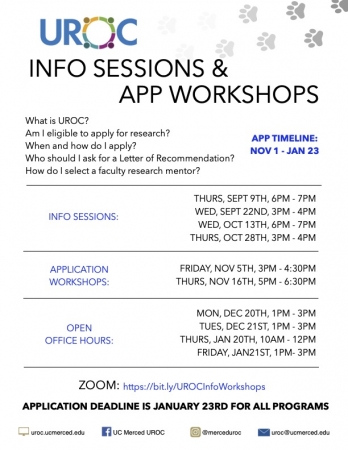 Info Session Dates (General info and program specifics)
Thurs, Sept 9th, 6PM - 7PM
Wed, Sept 22nd, 3PM - 4PM
Wed, Oct 13th, 6PM - 7PM
Thurs, Oct 28th, 3PM - 4PM
Application Workshops (Review application and how to be competitive)
Friday, Nov 5th, 3PM - 4:30PM
Thursday, Nov 16th, 5PM - 6:30PM
Open Office Hours (Staff available for general questions)
Monday, Dec 20th, 1PM - 3PM
Tuesday, Dec 21st, 1PM - 3PM
Thursday, Jan 20th, 10AM - 12PM
Friday, Jan21st, 1PM - 3PM